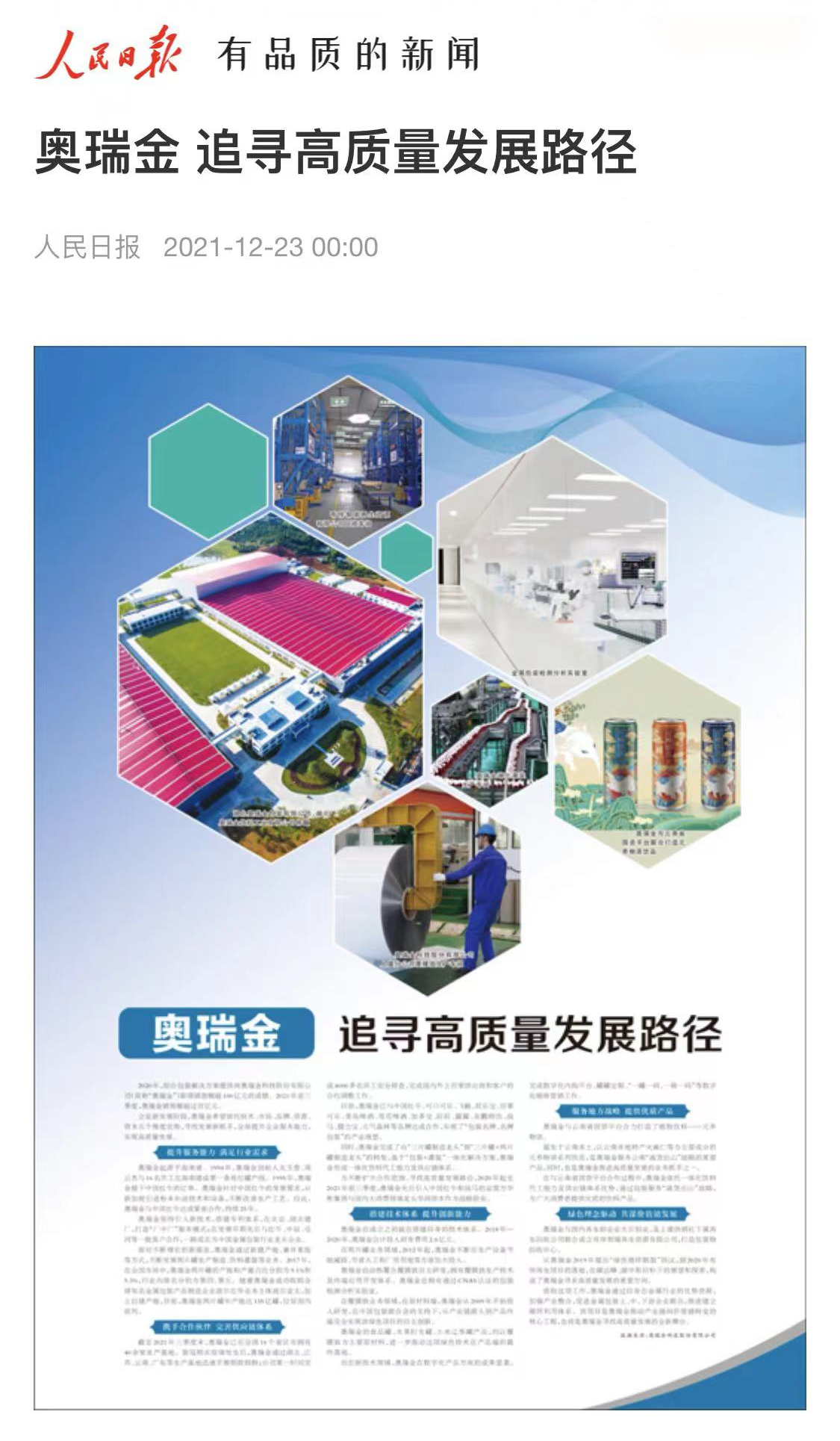 In 2020, ORG Technology Co., Ltd. (hereinafter referred to as "ORG"), a comprehensive packaging solution provider, achieved sales of more than 10 billion yuan. In the first three quarters of 2021, ORG's sales exceeded 10 billion yuan.
Based on the new development stage, ORG hopes to rely on the five advantages of technology, market, brand, resources and capital to find a new starting point for development, comprehensively improve the corporate service ability and achieve high-quality development.
Improve service capacity to meet industry needs
ORG originated in Hainan Province. In 1994, ORG's founders Guan Yuxiang, Zhou Yunjie and 16 employees built the first cans production line in Hainan. After receiving the order from Red Bull Group in China in 1995, ORG introduced powder coating technology and equipment from Singapore to continuously improve the production process according to the development needs of Red Bull. Since then, ORG has been maintaining close cooperation with Red Bull for 25 years.
ORG keeps introducing new technologies, establishing a patent system, building factories in Beijing and Hubei, and creating a "factory in factory" service model; in the early stage of development, it has successively cooperated with a number of customers such as Red Bull, Zhongchen and Tunhe, and has grown into a leading enterprise in China's metal packaging industry.
Facing the growing new demand, ORG continues to develop two-piece can manufacturing, beverage filling and other businesses through new production capacity, merger and reorganization. In 2017, the capacity and output of ORG's two-piece cans accounted for 9.1% and 9.3% respectively in the national market, ranking fourth and fifth in the industry respectively. With the successful acquisition of Bor Asia Pacific, the business entity of Bor Asia Pacific, a global well-known metal packaging product manufacturer, and the self-built capacity, the annual capacity of ORG's two-piece cans has reached 13.5 billion cans, ranking among the top in China.
Work with partners to improve the supply chain system
By the end of the third quarter of 2021, ORG had more than 40 production bases in 16 provinces, autonomous regions and cities in China. After the outbreak of COVID-19 pandemic, ORG rapidly donated donations through production bases in Hubei, Jiangsu, Yunnan and Guangdong. The company completed the security investigation of more than 4000 employees at the first time and completed the contract adjustment of hundreds of suppliers and customers at home and abroad.
At present, ORG has reached cooperation with Red Bull, Coca Cola, Feihe, JUNLEBAO, Pepsi Cola, Tsingtao Beer, Snowflake Beer, JDB, Want Want, Lulu, Dongpeng, Warhorse, Jianlibao, Yuanqi Forest and other brands, realizing the industrial ideal of "packaging famous brand and famous brand packaging".
At the same time, ORG has completed the transformation from "three piece can manufacturing leader" to "three piece can + two piece can manufacturing leader". Based on the integrated solution of "packaging + filling", ORG has formed an integrated beverage OEM capacity and supply chain system.
In order to continuously expand the scope of cooperation and find a high-quality development path, from 2020 to the first three quarters of 2021, ORG successively introduced Huabin Group, the operator of Red Bull and Warhorse, and China Resources Capital, a leader in the domestic large consumption field, as strategic shareholders.
Build technical system and improve innovation ability
ORG has been committed to building its own technical system since its inception. From 2018 to 2020, ORG invested 260 million yuan in R & D.
In the field of two-piece tank business, ORG has continuously increased investment in energy conservation and emission reduction of production equipment, labor and plant land since 2012.
ORG started the independent research and development of hot coated iron, and has the production technology and terminal application development system of coated iron. ORG also has a CNAS certified packaging testing and analysis laboratory.
In the field of coated iron business, on the raw material side, org began to invest in R & D in 2009. With the support of China Packaging Federation, ORG fully realized the independent innovation of the green project from the source of the industrial chain to the product terminal.
ORG's food cans, fruit time cans and millet ginseng cans all use coated iron as the main raw materials to further promote the final implementation of this green technology at the product end.
In the field of new technology, ORG has made remarkable achievements in digital products, and has completed digital precision marketing such as digital internal purchase platform, tank customization, "one code per tank, one code per box".
Serve local strategies and provide quality products
ORG and Yunnan state-owned assets platform have jointly created a plant beverage - Yuanyangwuyu.
Yuanyangwuyu series drinks, originating in Yunnan and mainly composed of local specialty hemp kernel, are important products for ORG to serve Yunnan's "Yunnan goods going out of the mountain" strategy. At the same time, they are also one of the business grasps of ORG to promote high-quality development.
In the cooperation with the state-owned assets platform of Yunnan Province, ORG relies on the advantages of integrated beverage OEM capacity and supply chain system, and provides high-quality beverage products for the majority of consumers through the packaging service "Yunnan goods going out of the mountain" strategy.
Green concept drives the development of value chain
ORG, together with Dazheng aluminum, a domestic recycled aluminum enterprise, and the recycling company subordinate to Shangyu supply and marketing cooperative, jointly established Youbanzhirui Renewable Resources Co., Ltd. to build a packaging recycling center.
From the "green cycle alliance" initiative put forward by ORG in 2019 to the implementation of companion regeneration projects in 2020, the prospect and exploration under the goals of carbon peak and carbon neutralization constitute an important direction for ORG to seek high-quality development.
By such means, ORG, through its advantageous resources in the metal industry, strengthens industrial integration, promotes the combination of upstream, middle and downstream enterprises of metal packaging, and promotes the establishment of recycling system. The project is the core project of ORG to promote the transformation from industrial chain to value chain, and will also be a new stage for org to find high-quality development.
Article source: People's Daily