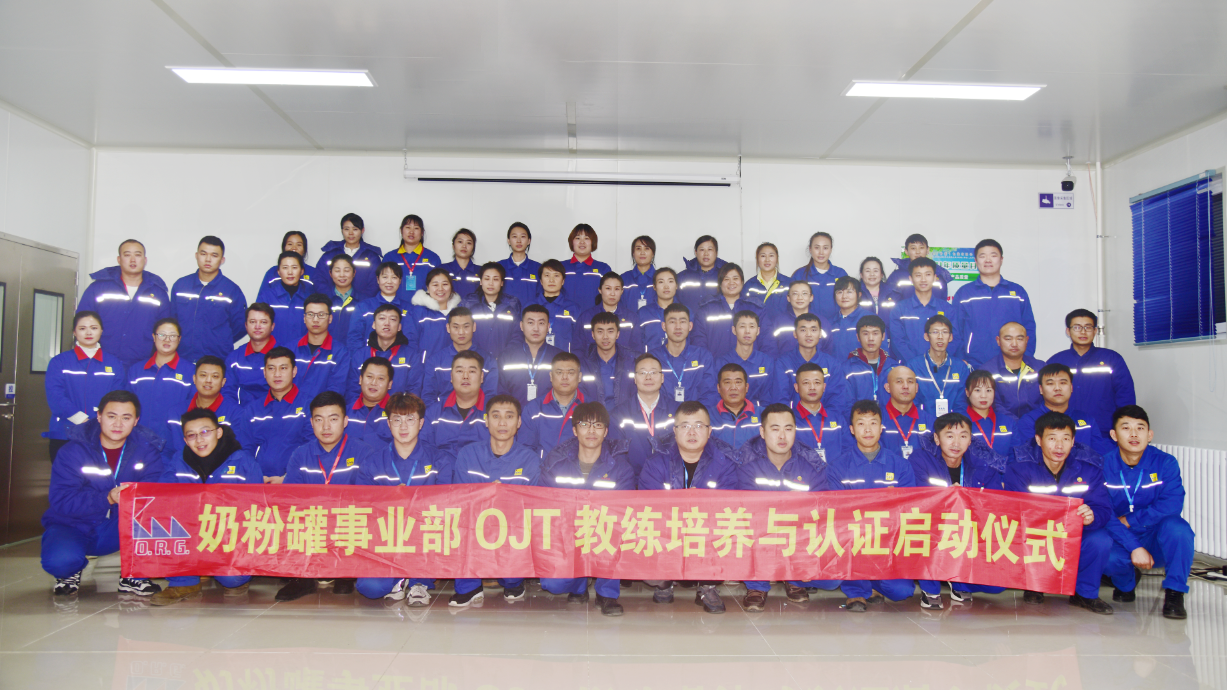 In order to implement the talent development strategy of "youth, knowledge and internationalization", inherit ORG culture, implement the "Double 120" training policy and promote lean production management of milk powder can factory, the OJT coach training and certification project of milk powder can business department organized by the human resources department of the group was officially launched in November 2021. Furthermore, it is planned to complete the OJT coach training and certification of Gannan Company, Kedong Company, Gannan Yintie and Hebei Company in two phases from November 2021 to July 2022.
"Double 120" is the talent empowerment goal put forward by Chairman Zhou Yunjie in the speech of "Rapid Development of ORG": the incoming education of new employees shall not be less than 120 hours, and the continuing education of senior employees shall not be less than 120 hours per year. OJT project is an important carrier for on-the-job training for front-line production employees. The so-called OJT is the abbreviation of "on the job training" in English. It refers to a training method in which bosses and skilled supervisors or senior employees educate and train subordinates, ordinary employees and new employees on job standards (knowledge / skills), know how, experience summary, etc. through daily work.
OJT project has been implemented and promoted within the group since June 2015. After six years of development, OJT has formed a set of mature and perfect training system, including OJT organization system and system, coach manual, training and certification of coaches and backbone coaches, teaching material compilation tools and methods, teaching material resource database, etc. Following the three piece can, two piece can and filling business division, the milk powder can business division also actively carried out OJT project, comprehensively promoted within the business division and helped the company's lean production.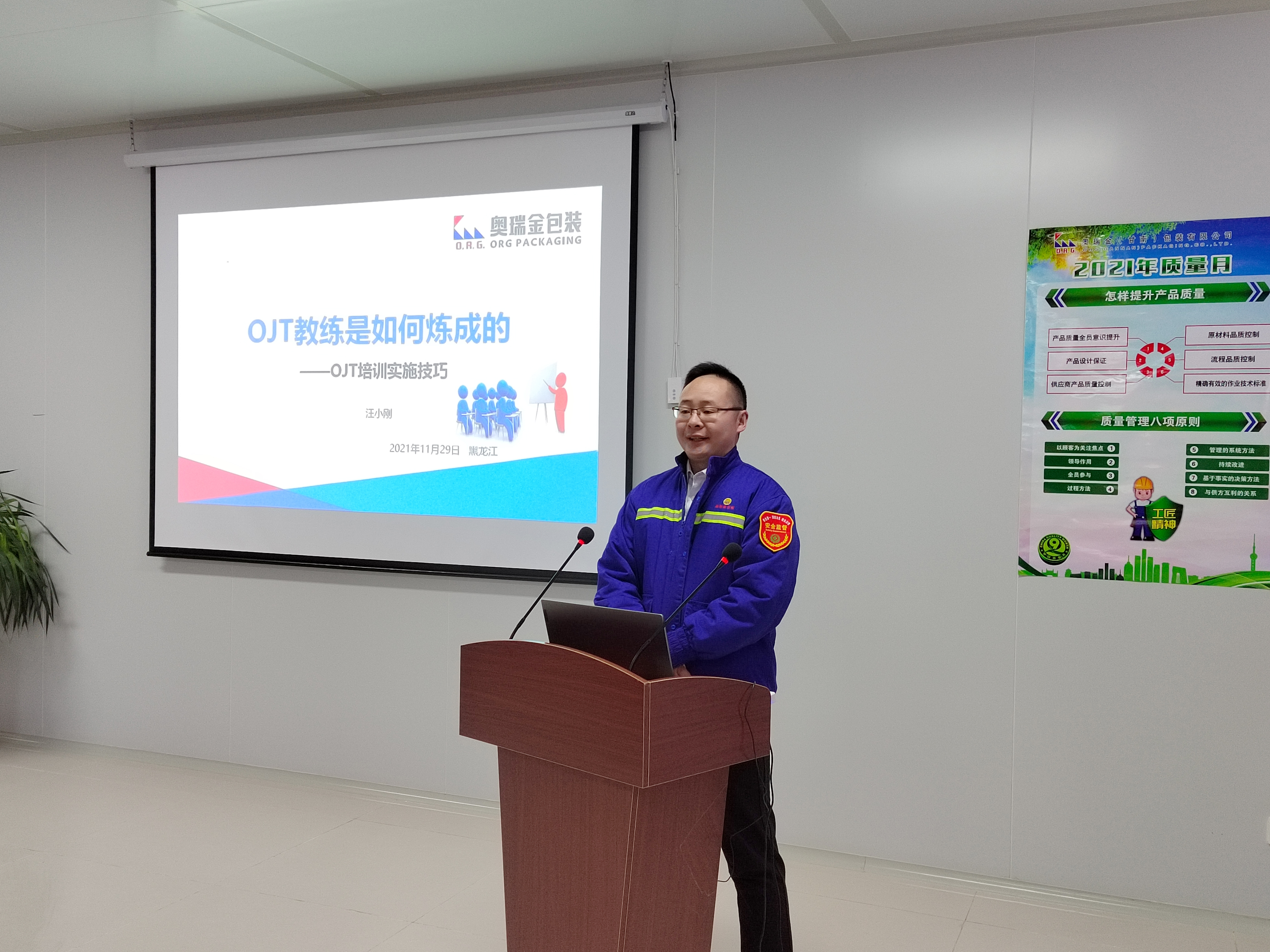 On November 29, 2021, Gannan factory held the launching meeting of OJT coach training and certification project. A total of 88 leading class cadres and front-line employees from Gannan factory, Kedong factory and Gannan Iron Printing Co., Ltd. attended the launching meeting. Zhu Changwei, General Manager of Heilongjiang production base of milk powder can business department, attended the meeting and made a mobilization speech. Zhu introduced the general situation of ORG group, the development strategic objectives of milk powder can business division, as well as the opportunities and challenges faced by the company; and he also pointed out that the sales volume of milk powder cans business department is planned to reach 1 billion yuan in the next five years. We are not the first in the market share of milk powder cans. In the face of competitors, we still need to continue to work hard to improve our management ability and technical level. OJT coach training is not only a process of talent training, but also a process of discovering talents. In the next five years, the company plans to train reserve talents for cadres at all levels, and encourages everyone to actively participate in OJT coach training and certification activities and grow together with the enterprise.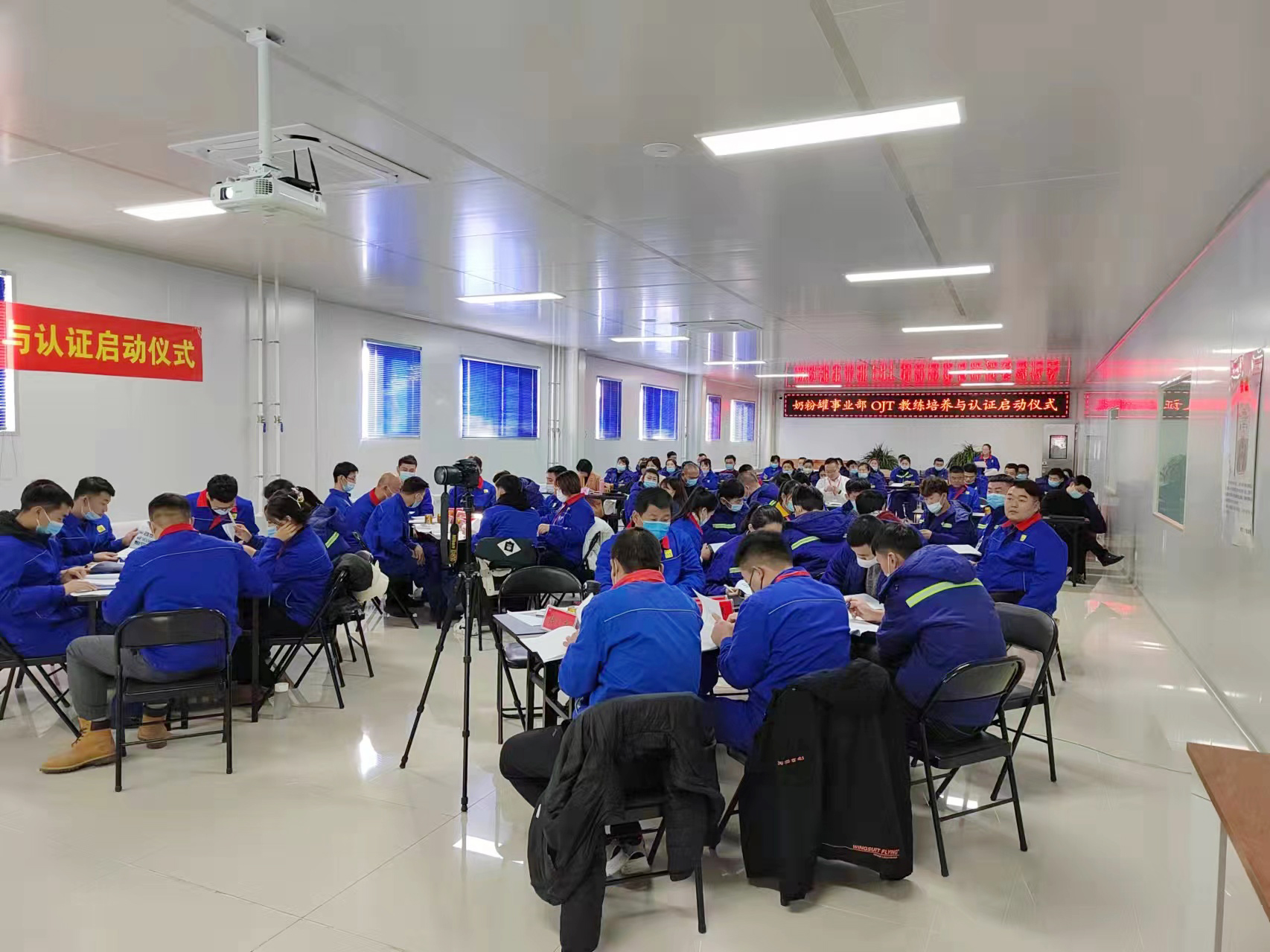 The training and certification of OJT coach is divided into four stages: training, certification, practice and discussion, and the training cycle is 3 months. From November 29 to 30, we invited Feng Hongtao, senior manager of system management of three-piece can business division, Shi Qingyun, HR manager of the group, Wang Xiaogang, production director of Hubei factory and Zhang Jing, director of Personnel Department of Hubei factory as OJT lecturers. The training contents include how to refine OJT coach, development of OJT post teaching materials, operation and implementation of OJT training, etc. During the training, the lecturer will give lectures through the combination of theory and practical business cases, and assist in interaction, on-site drill, lecturer feedback and guidance and other teaching methods. In the professional, relaxed and participatory classroom atmosphere, the students in each group showed keen learning enthusiasm and serious learning attitude, and spoke enthusiastically on the spot. At the same time, through participation in learning, they showed teamwork spirit and excellent personal ability.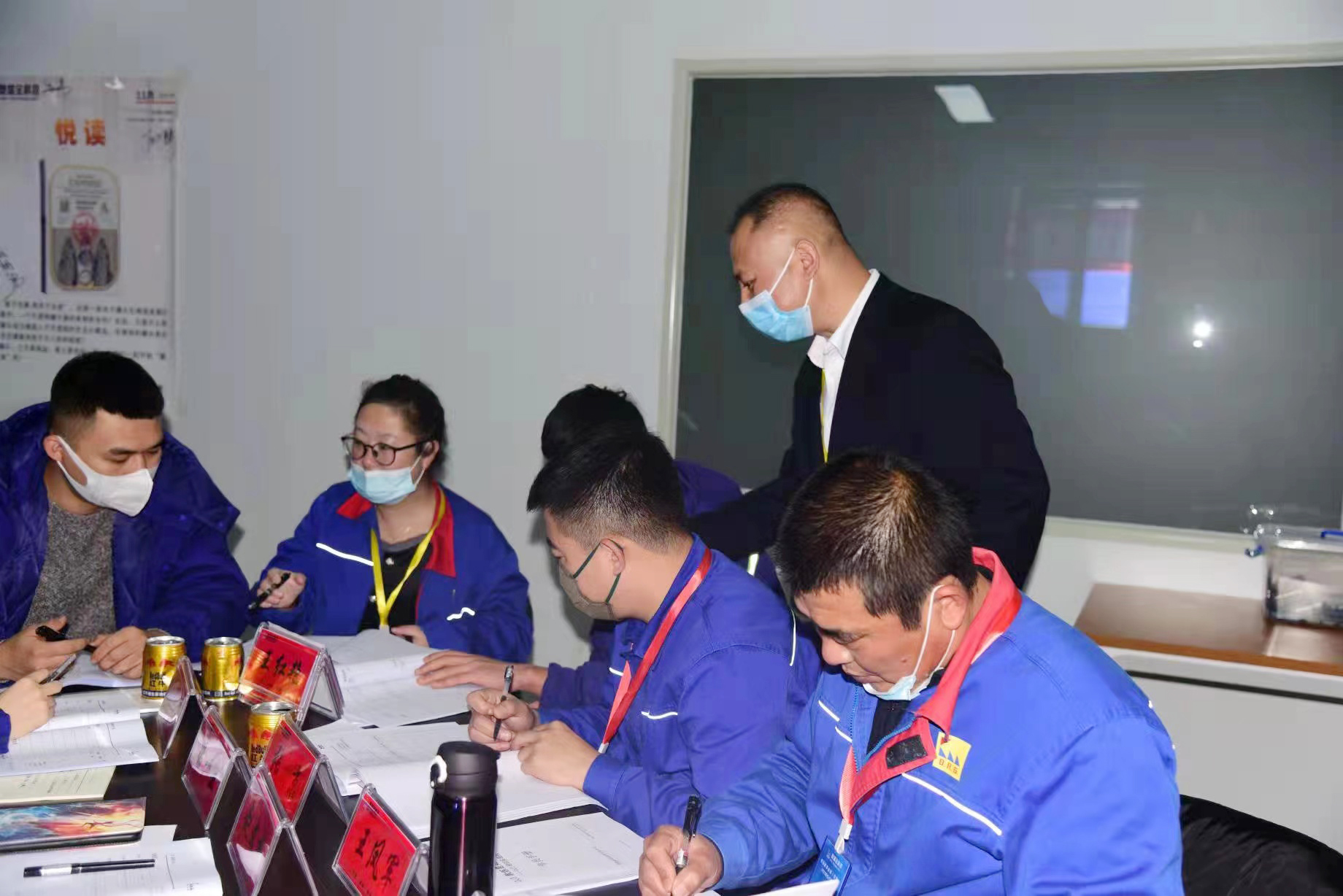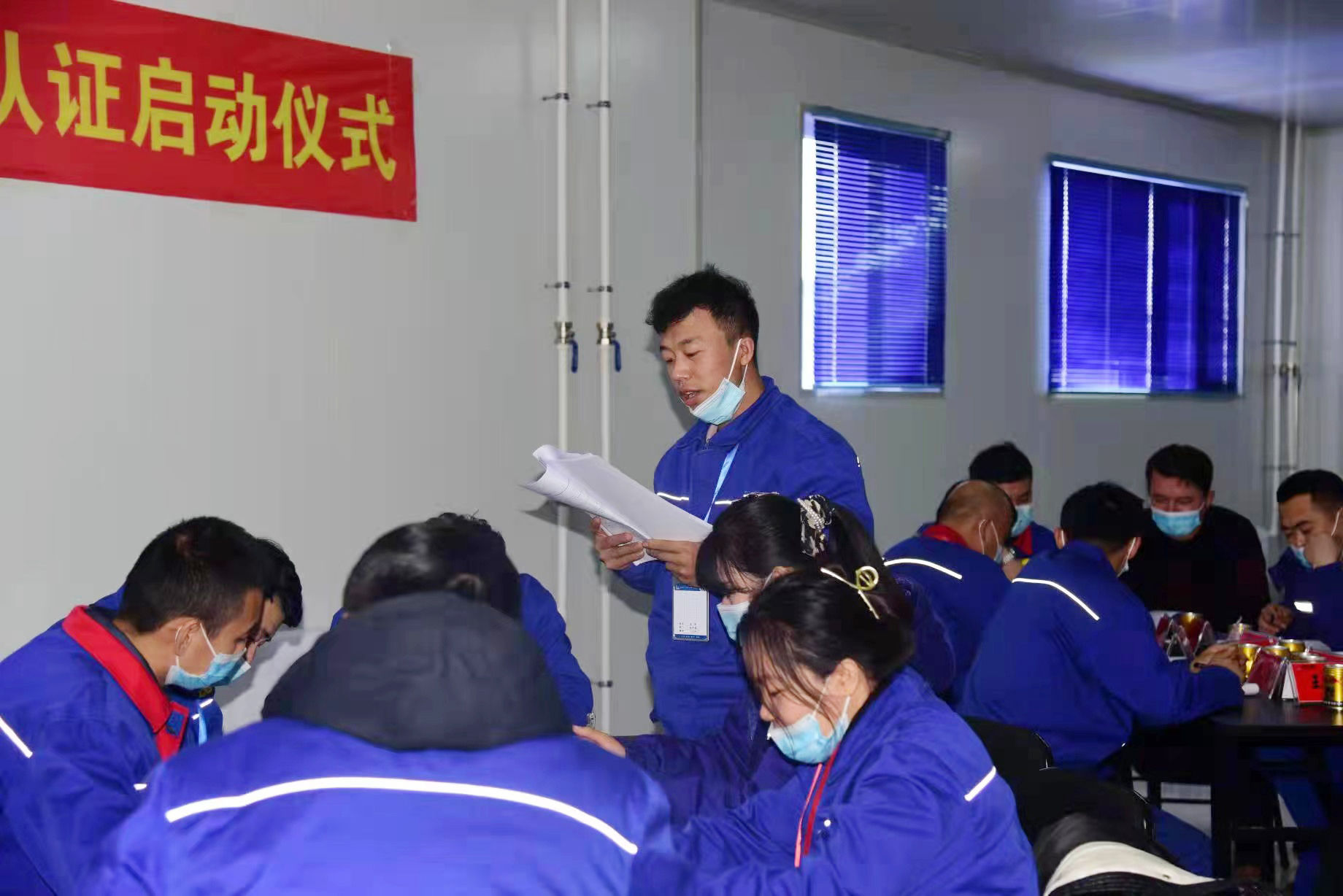 After two days of theoretical study and practical exercise, the lecturer taught them to fish, and the students have mastered the methods and tools of OJT. The attendance rate of trainees is 100%, the training satisfaction is 100%, and the satisfaction score is 4.85 (out of 5 points), which has achieved the expected training effect. The training stage of OJT coach has been completed. In the next certification and practice stage, we need to practice according to the OJT methods taught, master the methods of analyzing and solving problems, and form the thinking mode of OJT. At the same time, the company uses the group resource platform, draws lessons from the developed mature position sequence OJT single point knowledge courseware, and adjusts and optimizes the existing courseware in combination with the company's actual business.
OJT embodies ORG's craftsman spirit and corporate culture of excellence. It is an important means to support ORG's organizational and talent empowerment in the process of strategic transformation. It is expected that the factories of Heilongjiang production base of milk powder can business department will bring this mode to work, establish OJT curriculum system, develop OJT coaches, improve OJT training system, and help the company improve lean production management and achieve production objectives!
HR Department of ORG
By Xing Maozhuo